Welcome TO Lets Thrive Youth Group
Every Sunday 9:30 am-10:30 am
First Presbyterian Church Newark's Student Ministry is here to help students to learn to love God, build up others, and share their faith. Our commitment to students means that anyone from 7th-12th grade is invited to attend our weekly gatherings, activities, and events. We love meeting new students and we work hard to have a welcoming environment for all to attend. Ever weak we offer free food, snacks, tons of games, activities, prizes, and powerful bible lessons and teachings.
Our heartbeat is to fulfilling the Great Commission is by our community, school, and city, and making God fearing passionate disciples that will Know Him and make Him know through his love, presence, and glory in reaching their Schools, families, communities, and Cities for the Kingdom of God as we grow into a thriving ministry.
Our goal is for every one of our students to KNOW GOD and to Make HIM known.
For more info please contact Brian Webster our Family Ministry Director.
Text or call 510-230-5056
"Don't let anyone think less of you because you are young. Be an example to all believers in what you teach, in the way you live, in your love, your faith, and your purity." 1 Timothy 4:12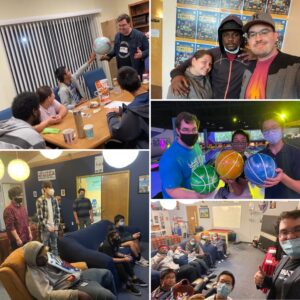 Are you passionate about seeing students come to know Christ and grow spiritually? Would you like to join our amazing team of committed adult leaders making an impact on this generation? Email us here. Thank you for your prayerful consideration to volunteer in this fun, exciting and fulfilling ministry.
Mission Statement
Raise up a Powerful Generation who will be world history revival makers in doing the impossible in Christ by taking his life-given message to the ends of the earth.
They will have a clear calling, be united in prayer, obeying God's commands
Living from glory to glory and laying down at his feet.
Becoming discipleship makers and reaching their schools, communities, and cities with the Gospel of Jesus Christ.
Linking arms with local churches through prayer, outreaches, bible studies, small groups, and serving the community.
These are the blueprints of taking a city for God
Core Pillars
City and Community impact Outreaches-We will host serval outreach events a year in our community and city. We will also go to the local places to bring the Gospel of Jesus Christ through witnessing, street preaching, and serving our city.
Campus Bible Clubs-We wants to plant and impact every school in our city and community with the Gospel of Jesus Christ. To partner up with other ministries, churches, and non-profits.
Church services– Create safe, fun, powerful, loving places where others can encounter the living God, see salvations, make sold discipleships, and raise up leaders. To have services that can serve the need for each age group.
Leadership Camp– We want to develop sold God-fearing disciples' leaders where they can grow in God and with others. These camps will be the consent of core values and character-developing teachings, mission trips in and out of our country, and developing mature men and women in the body of Christ.
Fellowship group– Weekly gathering where they can grow in fellowship with their friends and in the community while having games, worship services, bible study, and developing their skills, gifts, and dreams to become leaders.
Visitations – Taking the time of meeting up with the youth, families, children, and young adults at their house, a local place, and time to coach, mentor, and disciple them in the ways of Christ.
Prayer-Seeking and moving in the rhythm of God's heartbeat. This will be focused on developing prayer in their life, prayer and worship services, and revival meetings.
Core vales
The Commands of Christ
God's presence
Fasting
God's word
Evangelism
The Fold ministry
Fear of the Lord
Faith
Purity