Sunday Message: Christ In You
This past Sunday we had a guest speaker, Michael Boyland, who gave a message based on Ephesians 3:14-21.
Join us in-person or online every Sunday at 9:30am.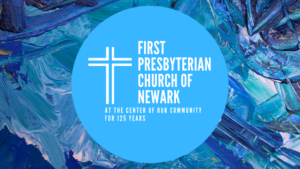 Welcome to First Presbyterian Church of Newark! We are so glad you are here.
We i

nvite you to join us by connecting with us in our virtual meetings and worship services.
We are live streaming and open for in-person Sunday worship service at 9:30am every Sunday on Youtube.
Thank you for visiting our page, feel free to message us if you have any questions.
—-What's new? Check it out below;—-
Sunday Service:
David Huang, one of our Deacons, will be giving the message this Sunday, May 28th. David is a Seminary student and offers us great insight into the Scriptures. We hope to see you here at FPCN!

Join us in-person or online this Sunday at 9:30am.

We are continuing to dive into the Book of Romans this Sunday at 11am in the Church Library. One of our deacons, David Huang, is leading the class. This should continue to be a lot of fun and very informative with David being a seminary student. We hope to see you there!
For any inquiries, please contact Bob Vinson at: rob15vin@netscape.com
___________
Free Zumba class offered every other Saturday at 10am in the Fellowship Hall. The next few classes meet on June 3rd, June 17th, and July 1st. For more information please contact our Events Elder, Wendy Wang.
__________________________________________________________
There is no more mask mandate for Alameda County and therefore FPCN has lifted the mandate for our campus as well. For more information please feel free to contact our Office Manager David Kayumy at office@newarkpres.org. Thank you and God bless.
We hope to see you here in person or online via our YouTube channel.
Our sermons are broadcast live on our website as well and the video is available here all week. The video stays on our YouTube channel for good.
Our Family Ministry is now meeting in person during Sunday morning worship every week at 9:30am
Youth Group meets every Thursday @7pm in person at FPCN. This is our middle school and high school group primarily. For further information please contact our Family Ministries Director at Brian@newarkpres.org
O
ur mission statement at FPC Newark is,
"That as followers of Jesus Christ,
we will love God, build up others
and share our faith."