Sunday Worship Service June 6th, 2021
____________________________________
Welcome back to FPCN in-person worship, Sunday, May 16th. We know that many people in our church family will not be able to attend at this time due to a number of reasons.
We want to be clear that there is no pressure for anyone to attend. We support your decision to delay returning to in-person services until the time that you and those you care for are comfortable returning. We will continue having our services online.
If you need help, please email us at office@newarkpres.org. Your request will be forwarded to one of our team and they will assist you.
Please see the bottom of the page for our reopening plan and FAQs.
We look forward to seeing you both in person and online!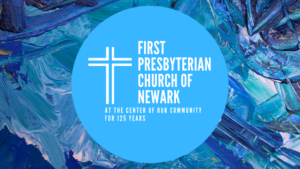 Welcome to First Presbyterian Church of Newark! We are so glad you are here.
We

invite you to join us by connecting with us in our virtual meetings and worship services.
We are currently streaming our Sunday worship service at 8:30am every Sunday on Youtube.
You can also connect with us through Zoom to catch up with other members of our church, Sundays at 10am. Our Adults Sunday school group meets afterwards at 10:45am on zoom.
Thank you for visiting our page, feel free to message us if you have any questions.
SUNDAY JUNE 13th & 20th**
**PLEASE NOTE THERE WILL BE NO CLASS
Our mission statement at FPC Newark is, "That as followers of Jesus Christ,
we will love God, build up others
and share our faith."
————————-
What to Expect In-Person
 In accordance with state guidelines, we are limiting attendance to 50% capacity – 100
people.
 When you arrive for service, please expect to have your temperature taken and a few
screening questions asked.
 Your name will be added to the attendance list in case of the need for contact tracing.
 Everyone is expected to wear a face mask that covers your nose and mouth
throughout the entire service.
 Seating has been arranged to accommodate social distancing between households.
Please maintain social distancing throughout the entire service and afterwards
including in aisles as we exit.
 If you appear to be sick or display any symptoms of illness, you will be immediately
asked to leave the service.
 Please remain in your seat once you have been seated.
 Restrooms are available but we ask that they be single person use to assist with social
distancing.
 Please dress warm as all windows will be open during the entire service for ventilation.

By attending, you understand and agree that:
 You are in a public setting with other individuals that are not related to you. Although
we have taken enhanced health and safety measures, an inherent risk of exposure to
COVID-19 exists in any public place where people are present. Your participation is
purely voluntary and by visiting First Presbyterian Church of Newark you assume all
risks related to exposure to COVID-19.
 You are in good health as far as you know and will take the necessary safety
measures to look out for the safety and well-being of others.
 If you are exposed or become aware of an exposure to COVID-19 after you have
attended our worship service, for the safety of our entire church family, we encourage
you to self-report this to office@newarkpres.org. The names of those who self-report
will be kept confidential.
What to Expect If You Continue Viewing Online
With the move to in-person services we want to continue the online viewing as well. Our A/V
crew has done a great job recording and presenting our services. We are working to improve
our recording of the in-person service and hopefully move to live streaming. With the new live
streaming system, the service will look a bit different than the recordings we have been producing.
Please be patient as we learn the best way to use our new equipment.
FAQs
What steps are being taken to clean the facility?
We have volunteers cleaning and sanitizing before the Sunday service.
What are the basic guidelines for seating?
You will be seated in family units in alternating rows to ensure proper social distancing. After the
service ends, please remain seated until a greeter dismisses your row.
Will children's ministry and childcare be reopened?
For the first few weeks of the reopening, there will be no children's ministry or childcare.
Children must remain with their parents.
Can I use the restroom?
Yes. Please note that restroom doors now have locks so you can prevent others from entering
while you are inside.
Can I greet other people during services?
Yes, but please maintain social distancing and refrain from physical contact (no hugs or shaking
of hands) with anyone that is outside of your household.
Will there be singing and communion during services?
We will be singing while wearing masks. Communion will be served through individual pre-
packaged containers.
Will there be time to socialize after the service?
Yes, we be outside on the patio where everyone can maintain their social distance.
Will there be coffee and refreshments after the service?
Coffee and tea will be served by a designated trained volunteer. We are required to use
disposable cups.
————————–