Sunday Worship Service August 29th, 2021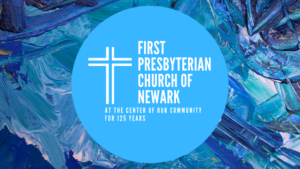 Welcome to First Presbyterian Church of Newark! We are so glad you are here.
We

invite you to join us by connecting with us in our virtual meetings and worship services.
We are live streaming and open for in-person Sunday worship service at 9:30am every Sunday on Youtube.
Thank you for visiting our page, feel free to message us if you have any questions.
Small Groups start in September – Getting Out of the Boat. We will start our all church fall small groups the week of September 12th
Thursday 7pm small group has reached its capacity and is now closed.
We are no longer accepting sign ups for this group. Please sign up for Monday morning or evening groups.
Our mission statement at FPC Newark is, "That as followers of Jesus Christ,
we will love God, build up others
and share our faith."
Welcome back to FPCN in-person worship, Sunday, May 16th.
We know that many people in our church family will not be able to
attend at this time due to a number of reasons.
We want to be clear that there is no pressure for anyone to attend. We support your decision to delay returning to in-person services until the time that you and those you care for are comfortable returning. We will continue having our services online.
If you need help, please email us at office@newarkpres.org. Your request will be forwarded to one of our team and they will assist you.
Please see the bottom of the page for our SSP plan.
We look forward to seeing you both in person and online!
————————-
First Presbyterian Church of Newark
Site Specific Protection Plan 6/16/2021
On June 15, 2021, the State of California modified most of the restrictions caused
by Covid-19. Following are points are required by the State and County to be
included in our updated plan for the church facilities.
• We ask anyone who does not feel well to stay home. (Flu, cold, covid)
• Face Coverings will not be required for vaccinated persons indoors or
outdoors.
• Social distancing will not be required for vaccinated persons indoors or
outdoors.
• All persons over the age of 2 that are unvaccinated are required to wear a
face covering and maintain 6-foot social distance indoors.
• Vaccinations will not be verified. We ask everyone to self-manage if they
are unvaccinated.
Programs with unvaccinated youth require:
• All leaders of the youth program will be vaccinated (including volunteers,
parents, others)
• All youth and adults will wear face coverings indoors.
• Youth and adults will maintain 3 to 6 feet social distance indoors and
outdoors.
We will continue to monitor and work with the Alameda County Health
Department for any future changes in the local guidelines. Questions can be
directed to:
• Barbara Miller, Buildings & Grounds Elder
• Mike Marzano, Corporate Trustee