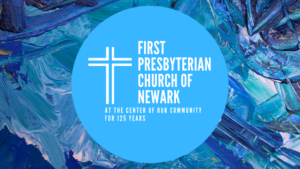 Welcome to First Presbyterian Church of Newark! We are so glad you are here.
We

invite you to join us by connecting with us in our virtual meetings and worship services.
We are currently streaming our Sunday worship service at 8:30am every Sunday on Youtube.
You can also connect with us through Zoom to catch up with other members of our church, Sundays at 10am. Our Adults Sunday school group meets afterwards at 10:45am on zoom.
Thank you for visiting our page, feel free to message us if you have any questions.
Our mission statement at FPC Newark is, "That as followers of Jesus Christ,
we will love God, build up others
and share our faith."
It's composed of people like me. We make it what it is.
It will be friendly if I am.
Its pews will be filled, if I help to fill them.
It will do great work, if I work.
It will make generous gifts to many causes if I am a
generous giver.
It will bring other people into its worship and
fellowship, if I bring them.
It will be a church of loyalty and love of fearlessness
and faith. A church with a noble spirit.
If I am filled with these.
Therefore, with the help of God, I shall dedicate
myself to the task of being all the things that I want
my church to be.
Jean Doris Ficklin
March 4, 1930
Jean has been a resident of Newark,
California since December of 1963. She
was welcomed into the community by the late pastor John (Jack) Wilson of
First Presbyterian Church in Newark, where she and her family later joined.
As an active member and with God's calling to serve, she enjoyed bible
study, Sunday school, devotions with the quilters and Pastor's aid. She has
quietly comforted many members in times of stress or loss.
For 18 years she organized the annual Dr. Martin Luther King, Jr.
commemoration program that was held at First Presbyterian Church every
January. Pastor Garrett Yamada has hosted the event for the last 10 years.
Her gifts and talents have been dedicated to the Newark Unified School
District. She taught first and second grade with an emphasis on reading and
later as a specialist in the reading lab. Her strong desire was to change
student's attitude about their personal reading capabilities. She loved to
hear her proud and excited students proclaim "I can read!!".
Children continue to be her love. She is the proud mother of five children:
John, Aurelia (deceased), Rosalyn (deceased), Freida and Janice.
Five grandchildren: Malik, Martin, Rhianna, Kevin and John O.
Three great-grandchildren: Zaria, Olivia and Aubrey Ricard.
Jean has many other interests and affiliations, OSLAH, NAACP and CTA to
name a few.
Each year as we get closer to a milestone graduation, wedding or birthday,
she says "If the Lord blesses me to see the day, I'll be grateful". And so far,
God has come through each time!!
The family would like to thank Pastor Garrett Yamada and Newark
Presbyterian Church for hosting this special 90th birthday celebration for
Jean.
__________________
Jean Ficklin's 90th Birthday Drive by Parade
Saturday March 6th, 2021 from 1pm – 3pm
Jean is to begin her 90th birthday celebration with a royal Zoom Toast on Thursday March 4th at 5:30pm followed by a Birthday Drive-By Parade on Saturday March 6th from 1pm – 3pm location: First Presbyterian Church Newark.
If you plan on attending the parade, the family requests that you remain in your car, wear a mask or shield and practice social distancing. PLEASE STAY SAFE AND HEALTHY!!
So, get ready, make your signs, decorate your cars, SUVs and come honor royalty by honking, waving, singing, giving virtual hugs etc.

We hope you'll be able to join her for one of the celebrations.
————————-
As we begin to see some Bay Area counties easing restrictions, reopening businesses and beginning to allow public gatherings, including worship services, you may be wondering when we will be able to gather in our sanctuary to worship together in person again.
Our special task force has been hard at work over the past several months educating themselves and Session on the rules, regulations and safety measures necessary to reopen safely. Alameda County is still "strongly
encouraging places of worship to continue providing virtual/remote offerings that do not require congregants or visitors to gather in-person." So, while you may begin to see other churches offering in-person services, our Session has weighed this decision thoughtfully and carefully, and has voted to wait until we are confident that we can do so safely. We are revisiting this decision each month.
If you would like more information on the work of the Task Force and / or the measures we must take when we do decide to open our doors agin, you can read the full SSP report here or contact the Task Force Chair, Barb Miller at (510) 797-8811.
As difficult as it is to not be gathering together at our church, we can take comfort in reminding ourselves that the church is not a building of stone, but believers who are living stones make up God's temple (1 Pet. 2:5). So, even though we are not together physically, we can still act as one community to love God, build up others, and share our faith.
————————–