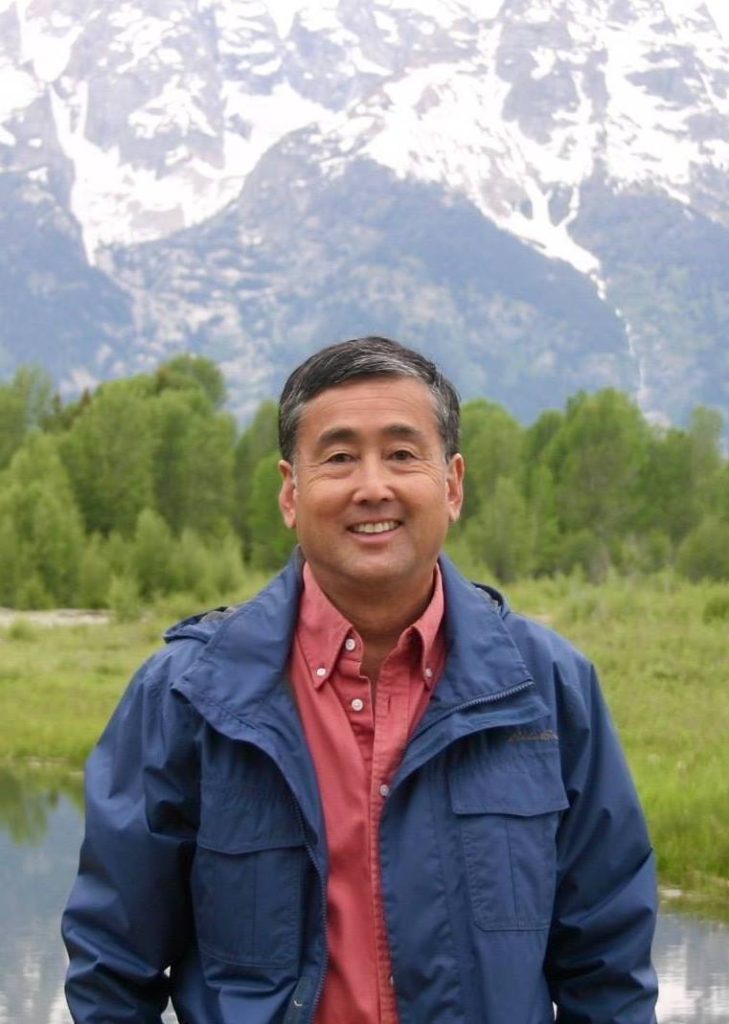 Pastor Garrett Yamada
Garrett has served as the Pastor of our church since September of 2009. He has worked well with the leadership to clarify our mission statement and to develop programs and passions to help meet it. He brings a ministry that is full of joy, adventure, laughter and the love of Christ.
Garrett has been an ordained pastor for over 35 years. He received a Master of Divinity from his time at Princeton and Fuller Theological Seminaries. He has previously served at churches in Riverside, Berkeley, Laguna Hills, Pleasanton, San Mateo and Manila (Philippines).
He and Stephanie have been married for almost 37 years and have three grown children, Brent, Kimi and Sara. They met while they were both students at UC Davis. (Garrett earned a B.S. in Agricultural Education and two teaching credentials at U.C. Davis). Stephanie is a Behavior Therapist with Pleasanton School District and works with children with special needs.
Garrett loves spending time with his family. He also enjoys traveling, good food, fishing and photography.
Office
Music
Sifa & Liz have been married for 18 years and have 5 sons, David, Solomon, Joseph, Elijah and Isaac. They love God, have been in ministry together since they were teenagers in the worship team and youth ministry. Sifa started as the contemporary worship leader here at FPCN in 2013 and is currently the full time worship/choir leader. Liz volunteered and taught in Sunday school from 2015-2020. Liz is now working as the office manager at FPCN. FPCN has become part of their family and have been a blessing to them.
They love to spend time with their family, travel and make memories together.
Music
Bill comes to First Presbyterian Church of Newark with over 35 years of handbell experience. He previously directed the handbell choirs of St. John's Presbyterian Church in Berkeley and Piedmont Community Church. He has performed extensively throughout the United States as a ringer and handbell soloist. Bill has also taught classes in the art of handbell solo ringing at conventions sponsored by the American Guild of Handbell Ringers (now Handbell Musicians of America).
His other musical endeavors include playing Timpani in the Contra Costa Wind Symphony. In his non-musical life, he is a geographer specializing in Geographic Information Systems. Bill lives in Walnut Creek and enjoys traveling andspending time with his wife and 4 kids.
Sunday Morning Children's Leader

Family Ministries Director
Family Ministries Director | Brian Webster
God placed a powerful calling in my life. I have a passion to serve under a Pastor and rally under the vision of a thriving Church to take the city for God and see revival in a healthy Family Ministry. God has gifted me to be an effective, passionate, loving, and creative leader, gifts I would use to empower, disciple, direct, and equip others to advance God's Kingdom. I am a team player that inspires others, faithful, self-motivated, and has a huge heart for the local church, to develop and equip leaders, and to serve and reach the community.
I grew up in Michigan and didn't come to the Lord until I was 18 years of age from a broken family. God encountered me at Acquire the Fire by Teen Mania Ministries. It was during this time when God spoke to me. He put a passion in my heart to reach this generation at all costs. From there I went to Tyler Tx for two years to serve in the Honor Academy.
During that time I grew in character, wisdom and in my calling. With that God lay on my heart to come to Northern California to reach the youth with the Gospel and placed a powerful calling in my life, to be an evangelist Youth Pastor by starting revival a in Northern California though Bible clubs, prayer gatherings, discipline youth and help build churches to having a thriving youth ministry. I am also passionate about reaching the comic and anime nerd world with the Gospel of Jesus Christ.
I am a loving husband to my amazing, lovely beautiful wife Ann, who truly is God's sent gift. Together we are a powerful couple that is being used by God to advance the Kingdom.
We enjoy dining out, cooking, hiking, comic cons and going on adventures. In my spare time I enjoy drawing comics, video games, studying and reading books on many different topics and areas of life, leadership, and in ministry.
Office Hours
Monday – Thursday 8am-12pm